Nomessin – Samsung Indonesia has brought back a refrigerator carrying Family Hub technology with several updates.
This smart refrigerator can not only be a cooler and food preserver, but can also be relied on to assist with activities, as entertainment, to help users meet their daily needs.
The Samsung Family Hub can now be purchased in Indonesia in black with a two-door variant. Priced at 2080USD, this smart refrigerator is available on Samsung.com, e-commerce partners, as well as your nearest Samsung offline store.
As an attractive offer, every purchase of a Samsung Family Hub Refrigerator until February 6, 2022 will provide an instant reward totaling 194 USDin the form of Galaxy M12 and cashback of up to 69 USD. Buyers can also use credit cards with 0% interest installment offers for up to 24 months.
as previous generationThe Samsung Family Hub refrigerator with a tablet-like display on the right door is also supported by the Tizen operating system that can update itself automatically.
However, the Tizen operating system in this refrigerator only provides the built-in applications that are already in it. Other apps cannot be downloaded, so users can only rely on the browser to access certain pages, such as accessing YouTube, opening email, browsing social media, and more.
Melvin Rubianto, as Head of Home Appliance Products Marketing, Samsung Electronics Indonesia, said his party would work to develop Tizen to be able to reach more applications.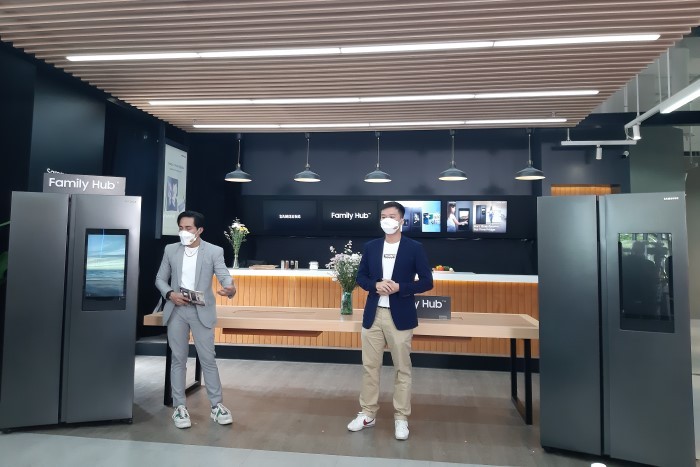 In addition, this refrigerator also offers features such as the Bixby voice assistant, the ability to connect to Samsung phones using SmartThings, the ability to access Spotify to tune in to songs, and a Family Board or Memo feature that can be used to leave a digital message via the refrigerator's screen.
In addition, there is a View Inside feature to view the contents of the refrigerator on your mobile phone. Unfortunately, the camera attached to the refrigerator can only target the two shelves in the refrigerator and cannot point to different sides so that not all of the refrigerator's contents are visible.
In addition, the Samsung Family Hub refrigerator still carries a meal planner feature that can help you choose healthy foods for your diet from the ingredients provided in the refrigerator. Then the Smart Recipe feature can recommend various recipes that are curated and adapted according to the user's preferences.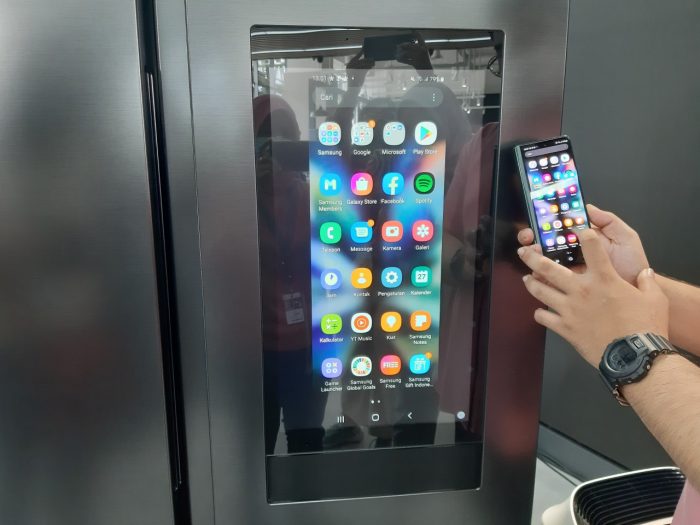 These recipes can also be added to the meal planner to arrange the weekly menu and add the ingredients to buy to the shopping list feature. With our weekly meal planner and shopping list, users will never run out of ingredients when cooking.
Meanwhile, the update now included in the Family Hub refrigerator by Samsung is a calendar feature that allows users to remember schedules for a month or more. For example, meeting schedules, children's birthdays, and other important family days.
Another added feature is Smart View, where users can mirror their Samsung mobile screens to access video-on-demand services, stream selected series, and watch YouTube. Regarding its durability, Samsung has clarified that the Samsung Family Hub display is splash-resistant.
UAHEYDGKJ