Nomessin – After being announced at CES 2022 some time ago, ASUS has finally showcased a new line of ROG laptops that will be powered by the Intel 7th-based 12th Generation H Series chipset.
These laptops include: ROG Flow Z13 motherboard It is a gaming tablet, the ROG Strix SCAR series which includes 15 and 17 inches, and the ROG Zephyrus M16.
However, for information about the price and launch time, ASUS still keeps the information confidential. With the latest processors from Intel, these three devices are supported by improved connectivity such as the available USB Type C Thunderbolt 4 port featuring data transfer speeds of up to 40Gbps.
Thunderbolt 4 can also be used to connect an external display that supports up to 8K resolution and is also equipped with USB Power Delivery. This means that all of these devices can be charged using a more compact USB Type C charger adapter or a power bank with support for charging up to 100W.
In addition, all three will offer Wi-Fi 6E connectivity, which has a frequency of up to 6 GHz. With this higher frequency, ASUS can provide a faster and more stable connection than WiFi 6 which is only 2.4GHz and 5GHz.
In addition, the 12th generation Intel processor that is included in these three devices will also be accompanied by an NVIDIA GeForce RTX 30 Series graphics card. For the ROG Strix Scar 15 and 17, the ROG Zephyrus M16 will use GeForce RTX 3070Ti and RTX 3080Ti cards.
Meanwhile, ROG Flow Z13 will use a GeForce RTX 3050 Ti card. The ROG Flow Z13 gaming tablet is just 1.1kg and 1.2mm thick. Especially for the ROG Zephyrus M16, it is rumored that it will not use a fingerprint sensor, but users can quickly enter content using Windows Hello on the webcam.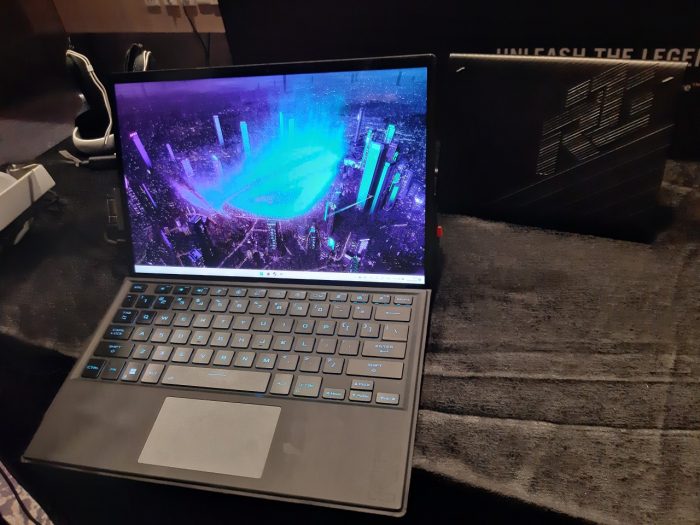 As ASUS Indonesia Technical Public Relations Officer, Riandanu Madi Utomo explained that ROG Flow Z13 is optimal for gaming when connected with an adapter cable to a power source. "It's better if the cable is plugged in, if you don't plug it in, that's okay too, but it will be less than optimal, the battery runs out quickly, and it would be a waste if you were invited to play heavy games," he said.
In addition, this gaming tablet can also be combined with keyboard accessories provided by default so that users can type on the tablet as well as be able to play games directly on the touch screen. Uniquely, the keyboard can be connected automatically and easily and will display RGB lights like ROG laptops in general.
Not to mention, all three ROGs will also be equipped with a MUX adapter that aims to funnel visual data paths from the discrete graphics chip directly to the laptop screen without having to go through the processor and connect from the graphics card.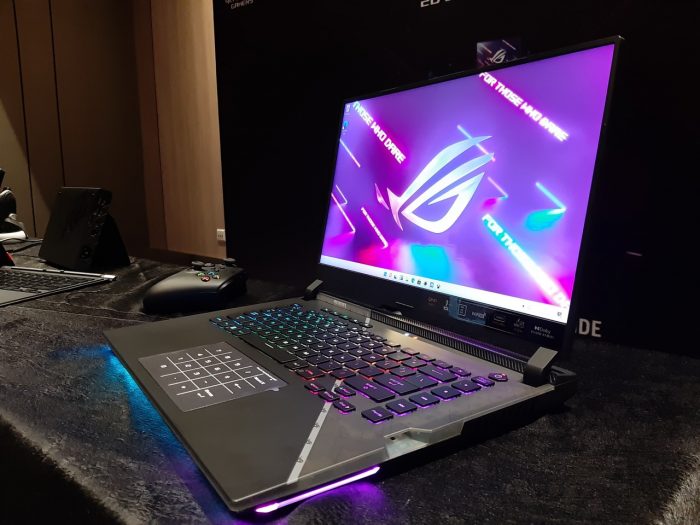 Visual data can now be displayed directly from the discrete graphics chip so that in-game performance can be better displayed. ASUS claims that the MUX Switch can improve gaming performance by up to 10 to 30 percent.
Moreover, Muhammad Ferman, as Head of PR and Digital Marketing at ASUS Indonesia, revealed that each of these latest ROG devices will have different percentages of sales in Indonesia.
"The ROG Flow Z13 will have a 5 percent supply, the ROG Zephyrus M16 will have a 10 percent supply, and the ROG Strix SCAR 15″ and 17″ will have a 20 percent supply," he explained.