Nomessin – Logitech officially launched its latest mechanical gaming keyboard called Logitech G413 SE Which comes in two versions, the Full Size and TKL (Tenkeyless) SE.
These two types of mechanical gaming keyboards will be available from February 2022 in Indonesia through various e-commerce partners who are official Logitech G Partners. Each is priced at 69 dollars for the Logitech G413 SE and IDR 879,000 for the Logitech G413 TKL SE. All of them get a two-year official warranty.
The full size actually weighs 780 grams with dimensions of about 435 mm x 127 mm x 1.43 mm. The full size version provides the Num Pad button while the TKL version does not.
The size of the TKL version is also different with dimensions of 355 mm x 127 mm x 36.3 mm and a weight of 650 grams. But they both use the same dangling cable to connect to a computer at a distance of 1.8 meters via USB 2.0.
Both full size and TKL versions support tactile mechanical switches i.e. tactile mechanical switching keyboard keys to provide a smooth experience in competitive and FPS games.
Additionally, this keyboard has keycaps that are claimed to be durable as they are made of PBT (Polybutylene Terephthalate) which allows it to provide heat resistance and is not easy to dry out for optimum gaming performance over the life of the keyboard.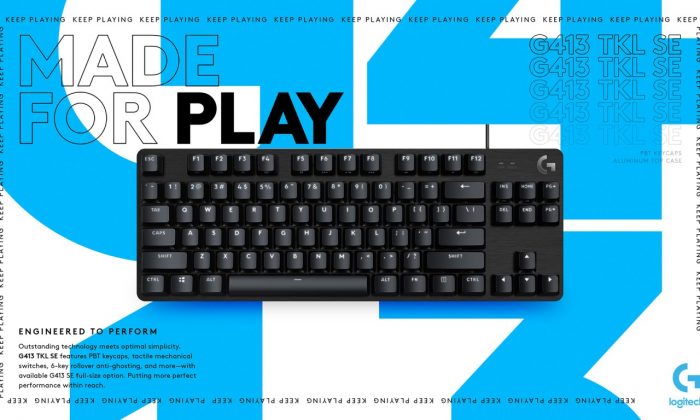 Additionally, there is white LED lighting on each key and the top case is made of black magnesium aluminium. There is also an additional anti-ghosting performance of six buttons which means that multiple buttons can be pressed simultaneously and all recorded at the same time to trigger special in-game moves.
Logitech has spent a lot of time designing a precision gaming keyboard that delivers advanced performance with the right feature set, said Ujesh Desai, Vice President and General Manager, Logitech Gaming.
"Constructed with strong, durable materials and high-performance features, this keyboard is an excellent choice for gamers who want a mechanical keyboard at an affordable price," he said.
.