Nomessin – Mobile is a device with a variety of features and applications that can be used to support daily activities.
On Android phones, we usually need a Gmail account so we can install apps, verify, make digital payments, and more. While using iOS requires an Apple ID connected to iCloud.
To keep your Gmail accounts and Apple ID secure, you should change your password regularly to keep it safe if it leaks from a site without us knowing.
But some of you may still not know how to change the password from an account on an Android or iOS mobile phone. So you can watch the tutorial as below.
How to change email password on mobile phone
Change Gmail password on Android
Open the app gmail on android phone
Choose photos Profile personly At the top left of the app
Select the Gmail account whose password you want to change
push the button google account
Select tab protection
Select the password list in a file Sign in to Google
Enter the old password and press the button next one
Next, enter a new password in the provided column
push the button change Password The password will change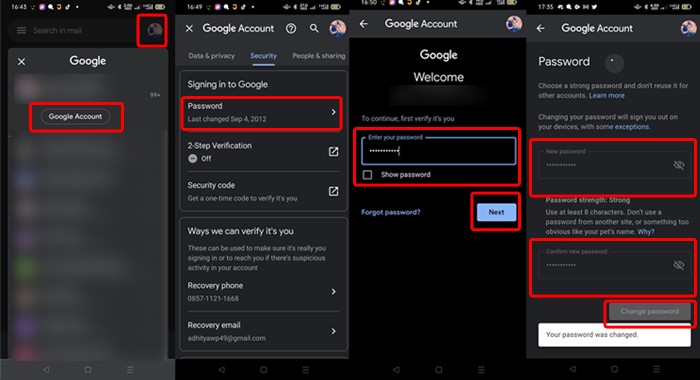 After changing the password, Android will usually display an exclamation point notification asking you to re-login to your Gmail account with the new password.
If the Gmail account is also used on other devices such as laptops, computers or tablets, you will also be asked to sign in again with the new password created earlier.
Meanwhile, changing the password on your Apple ID or iCloud account will be different from Gmail, but fortunately it can be done directly on Apple devices or the official Apple website.
Change iCloud password on iPhone
Open the app Settings on iPhone
Choose account name
Enter the menu password & protection
push the button change Password

Enter 6 numbers pass code from the device
After that, the input new password in the column new And back in the column Check to check
push the button change
In the popup Sign out of other devices with your Apple ID, you can choose Sign out of other devices or Don't sign out
Choose Don't sign outIf you don't want the account to be released on another device
You can say that changing iCloud password on Apple devices is very easy. In the meantime, if you choose Sign out of other devicesThen your iCloud account or Apple ID will sign you out of all the devices currently in use.
Then, just sign back in to different devices with a new Apple ID account and password. But if you don't want to sign out from all devices, just press the Don't Sign Out button.
Change your iCloud password on the Apple website
Open and log in to the site appleid.apple.com
After successfully logging in, select Menu Registration and security
Next, select Menu password

Enter the old password
Enter the new password and again to verify
push the button change Password
The password has also changed
These are some of the ways you can do to change email passwords for both Gmail and iCloud accounts. It is very easy, moreover, it can be performed directly on the mobile phone so that the process becomes more practical.
TTVVXO