Nomessin – OPPO mobile phones have a feature that allows the display to be shown on TV so that many people can enjoy it
By being able to connect to a TV, users can enjoy entertainment, in the form of videos or movies, more comfortably thanks to the larger screen. Especially if the TV is already equipped with a good speaker system.
In addition, you can also connect your OPPO smartphone to the TV for a slideshow so that it can be seen more clearly by the meeting participants. You can say that this will be very useful if you are not carrying a laptop for presentations.
However, it should be noted that the TV must already support Miracast or Chromecast in order to be able to display the content shown on the OPPO smartphone. Once confirmed, you can follow these steps.
How to connect OPPO HP to TV
Using Miracast
Activate mode Miracast or screen mirroring on TV
Turn on your OPPO phone and enter the home screen page
Swipe or swipe the screen from top to bottom with one finger
In section Quick Settings that appears, press Menu Screencast
on the page Screencast You can search for and select the TV to connect to
If successful, the screen of the OPPO mobile phone will immediately appear on the TV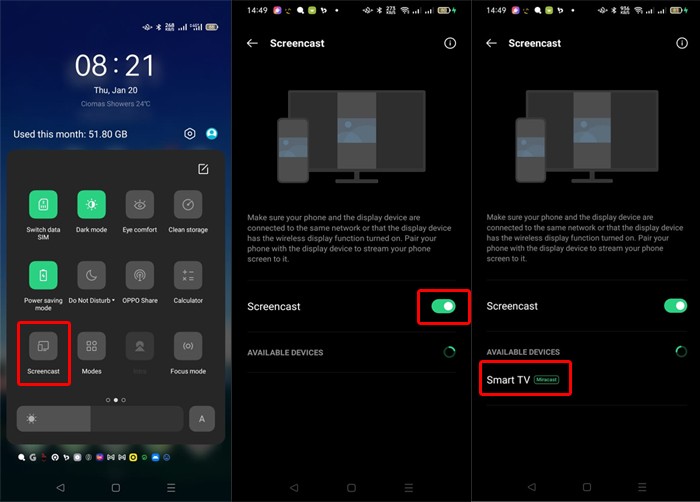 For the record, sometimes the display of the OPPO mobile phone has a delay or delay because it is connected wirelessly.
Via Chromecast built-in TV
his job Smart TV first
Make sure your OPPO phone and smart TV are connected to the network WIFI Himself
Open Quick Settings By swiping from the top of the screen to the bottom
Choose Screencast Wait for the process to finish
Once connected, the screen of the OPPO smartphone will appear on the TV screen
If your TV does not support Miracast or Chromecast by default, you can use a Chromecast dongle at a relatively affordable price.
Via Chromecast Dongle
Connect Chromecast to TV via HDMI port
Connect the USB port as a power source
Installing the application Google Home Activate WiFi on the mobile phone
Move the TV channel to the options HDMI port Using the remote control
Synchronize by entering the code that appears on the TV screen of your OPPO smartphone
Follow the configuration process until complete
OPPO phone will automatically connect to TV thanks to Chromecast
After that, open the menu Quick Settings and select Menu spit or Screencast
OPPO mobile phone screen will also appear on TV
These are the three ways you can do to connect your OPPO smartphone to a TV so that you can enjoy content with a wider visual range. What do you think is the most practical way?
OQBCSK