Nomessin – Sometimes you get bored with the font size of OPPO phones, so you want to try making it smaller to make it look less slim and can fit in a lot of menus.
Fortunately, the ColorOS operating system on OPPO phones already offers a feature to change the font size from the smallest to the largest that can be adjusted according to your needs.
However, it should be noted that the steps to reduce or change the font in some versions of ColorOS, such as ColorOS 7.1 or lower, will be different compared to ColorOS 11 or higher.
To make it easier to make the font smaller on your OPPO phone, I will give you an easy method as below.
How to reduce fonts on OPPO phones
ColorOS 7.1 and below
Accessing applications or menu Settings on OPPO phone
Choose a menu Screen brightness
Next, select Menu font size
In the font size slider that appears, you can drag the circle to the list Small
You will see preview Make all fonts on the system lowercase
If according to the selection, just leave the page font size And the font size becomes small automatically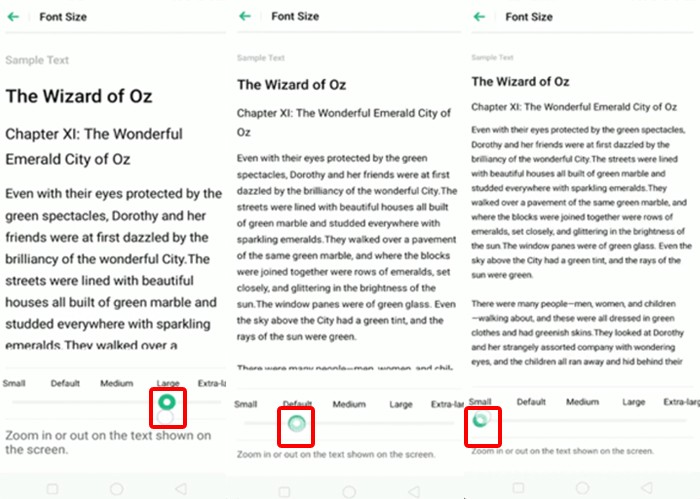 ColorOS 11 and above
open menu Settings on OPPO phone
Choose a menu Customizations
After that, search and choose Fonts and display size
Tap the circle on the section slider font size To the far left to select the mode Small
You will see a preview of the font changes that are taking place
push the button Progressing

The font size will also be smaller than the mode shortening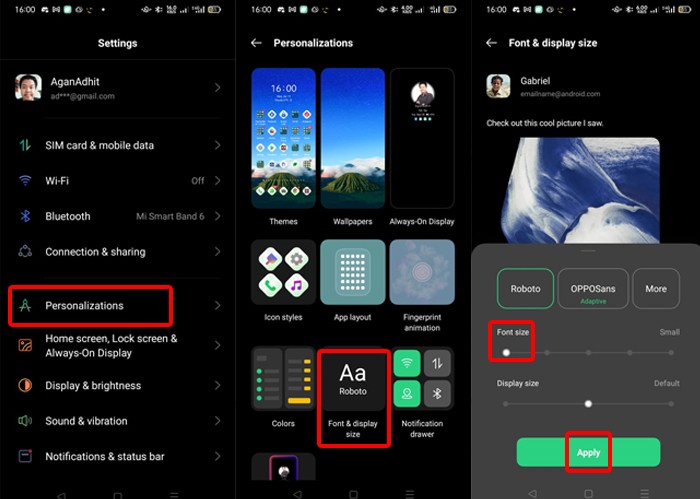 In fact, the font sizes on OPPO phones are available in five choices consisting of small, default, medium, large, and extra (extra large). Extra large and extra large sizes will be very suitable for parents because the letters can be seen more clearly.
Not only to change the font size, the settings in ColorOS 11 or higher can be said to be more complete because you can also adjust the font style and display size from the system screen.
On the Font Size and Width page, you will be presented with three font style options consisting of Roboto, OPPOSans (Adaptable) and more. By default, the system will use the Roboto font that was created for Android.
While OPPOSans is the official font made by OPPO in a more modern style. If you choose this font, a new menu will appear to set the thickness of the letters.
If you select More, you will be directed to the Font page in Theme Store. On that page, you can choose font types from different categories ranging from free to paid.
In Display Size, you are allowed to change the display size of the system starting from the space between menus and sizes of icons and images to fonts divided into three options including small, default and large.