Nomessin – HBO GO is an HBO video-on-demand streaming service that can be accessed through websites and apps and can be enjoyed by the people of Indonesia.
In general, HBO GO offers a variety of series or movies from HBO and HBO Asia Originals. Not only that, this service also offers Hollywood movies and TV shows from different channels, from HBO, HBO Hits, HBO Family, HBO Signature, Cinemax and RED by HBO.
In other words, HBO via HBO GO is trying to compete with many other video streaming services such as Netflix and Disney + Hotstar by offering a variety of movies and shows to attract movie lovers.
To be able to enjoy the content on HBO GO, of course, you must immediately subscribe to a Premium account such as Netflix. Later, you will also get benefits such as the ability to download videos so that they can be enjoyed offline in the applications installed on your mobile phone.
When you sign up for a Premium account, you can also stream videos on HBO GO on two devices at the same time. So, for those who want to subscribe to HBO GO, there are several ways to choose from.
How to subscribe to HBO GO
Via apps on Android
Open the HBO GO app and log into your account
Choose a menu Participate or Choose your plan
Select the desired subscription type (monthly or per 3 months)
push the button Complete
Select your payment method from the Google Pay menu that appears
Enter the password of the Google account and press the button Check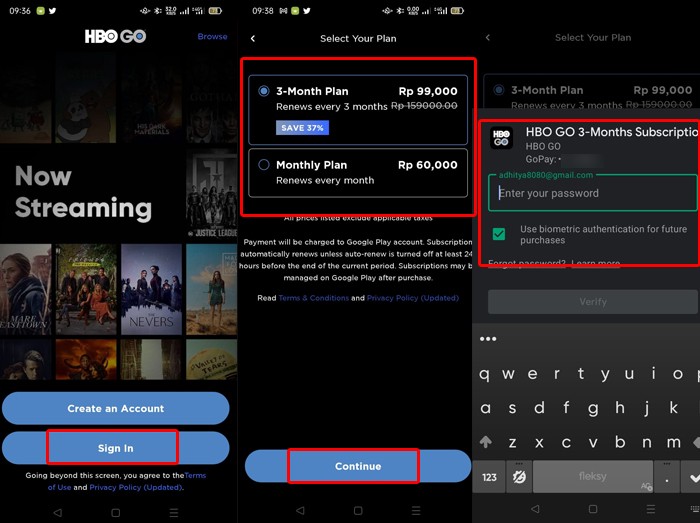 On the plan page, you can choose 3 month plan If you want to get a discount by subscribing directly for 3 months. But if you only want monthly, you can choose Monthly plan Regular price 60,000 rupees.
Via apps on iPhone
Access the HBO GO app and log in
Choose a menu Choose your plan or Participate,
Choose 3 month plan or Monthly plan
push the button Complete to complete
When the Apple Pay payment menu appears, enter Face ID Connection ID, or pin to complete the payment
It should be noted that if you subscribe to HBO GO using Google Pay or Apple Pay, you can get a 3-month direct subscription promotion for Rs 99,000 from the regular price of Rs 159,900.
Through the MyTelkomsel app
Open the MyTelkomsel app on your Android phone or iPhone
search page the shopping icon Basket
Choose the package Max Stream HBO GO (5 GB, IDR 60 thousand per month)
on the page detail package, You can view information about supported streaming services
push the button Buy
on the page method of payment or payment, push the button to push And follow the next process to finish

After successfully subscribing to MyTelkomsel, open the HBO GO app and login to your account
on the page Participate, Select Telkomsel in the section Connect your existing subscription to HBO
After that, enter Telkomsel Number Those who have subscribed to MAXstream HBO GO
Via Firstmedia or IndiHome
You can subscribe to HBO GO directly through the Firstmedia or IndiHome services with packages that include an HBO GO subscription already available.
For Firstmedia, HBO GO is available for Combo Supreme X1, Combo Maxima X1, Combo Ultimate X1, Combo Infinite X1, Combo 1 Gbps X1, and HomeCable Ultimate. Meanwhile, the IndiMovie 2 package for IDR 70,000 per month from IndiHome includes subscriptions to HBO Full Pack and Cinemax.
After confirming your subscription to this package, you can open the HBO GO website or app and log in with your account. Then find the subscription menu, select Firstmedia or IndiHome on the Select your billing method page, and select Link your existing HBO subscription.
Enter your username and password from Firstmedia or IndiHome. Follow all instructions provided in order for your HBO GO subscription to be detected so you can enjoy the premium content of the current video streaming services.
How to unsubscribe from HBO GO
Through apps on Android phones
Open the Google Play Store app
Select the profile picture to the right of the app
Choose a menu Payments and subscriptions (Payments and Subscriptions)
Choose a menu Subscriptions (Client)
Choose the HBO GO app
push the button unsubscribe (unsubscribe)
Select the reason for canceling the subscription. If you don't want to know the reason, you can choose the option refuses to answer (refused to answer)
push the button Complete (Complete)
push the button unsubscribe (unsubscribe) to confirm
Via apps on iPhone
Open the app Settings (Settings) on iPhone
Select your Apple ID account name at the top
Choose a menu Subscriptions (Client)
Select a subscription to the HBO GO app account
push the button unsubscribe (unsubscribe)
HBO GO app account subscription will stop automatically
Through the MyTelkomsel app
If you subscribe to HBO GO through the MyTelkomsel app, the subscription will automatically stop after 30 days. In other words, you have to manually re-subscribe if you want to enjoy HBO GO on Telkomsel.
Via Firstmedia or IndiHome
In this case, you have purchased an internet package from Firstmedia or IndiHome which includes HBO GO. Therefore, you cannot opt ​​out of HBO GO other than stopping the package you are using by contacting Customer Service.
.