nomessin – For the convenience and security of its users, realme has introduced the feature of Private Safe which is on its mobile phones by default.
Personal Vault is a feature that hides your photos, videos, songs, and documents in one place so that only some of the owners or people can access them.
Personal Safe is designed so that no one can just open important files on realme phones. This can protect against the unexpected, such as a close friend or family member opening a file without permission when borrowing a device.
As a default feature, it is very easy to do the activation and use the personal locker on realme mobiles.
How to hide files in personal vault
Access to the application Settings on realme phone
open menu privacy (privacy)
Next, select Menu private safe
You will be asked to activate your PIN, password or pattern that will later be used as a personal unlock
Then you will face a page private safe which contains the folder Photos, videos, audios and documents And other files
Select a folder and press the . button Add The person with the logo +
Select the type of file you want to hide
When the file is selected, press the . button he did
Later you will see that the selected file is already in the folder on the page private safe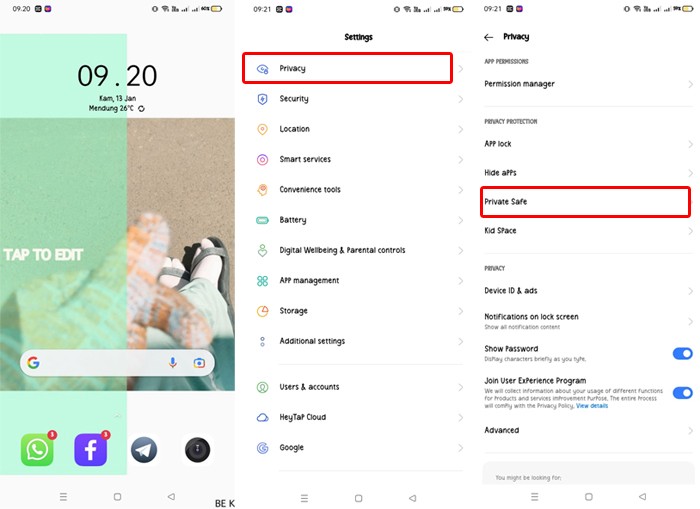 After the file is successfully entered into the personal locker, neither you nor others will be able to see the file through the Photos app or the file manager. So you have to open the Private Safe page again with the generated key.
How to open files from Personal Vault
Run the app Settings on realme phone
Next, select Menu Privacy
open menu private safe
put it in Passwords and PINs or pattern that was made earlier
If the lock is successfully unlocked, you will be directed to the page private safe
You can select and view hidden files from any folder
Please note that when you activate Personal Safe for the first time, the system will ask you to activate the shortcut folder on the home screen page. When you agree, your Personal Vault will appear on the home screen without having to go to the Settings menu first. But to unlock it still requires a password, PIN, or pattern.
Meanwhile, if you want to restore a file hidden in Private Safe to normal so others can see it in the Photos app or file manager, you can set the file to public.
With the built-in Personal Safe feature, you can keep important files without having to download other apps from the Google Play Store.
.